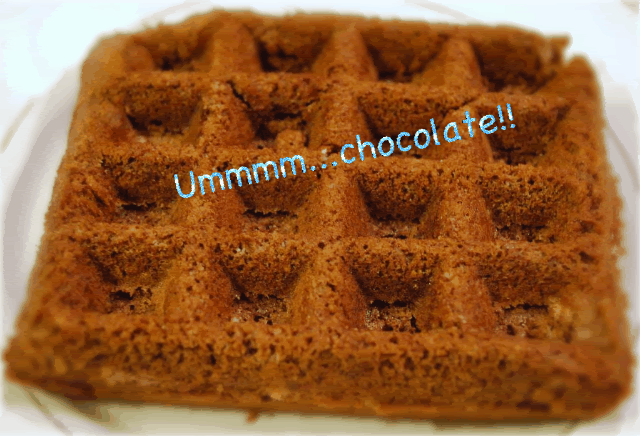 I have
the
hardest time getting my son Collin to eat breakfast in the morning. He inherited his daddy's tummy because he doesn't like to eat in the morning either. Not me! I'm hungry as soon as I get up! Collin is also a major junk hound and would rather eat candy for breakfast. That doesn't really fly with mama.
So, in an effort to find some common breakfast ground we made chocolate waffles. That way it seems like he is getting more of a treat in the morning and I know he's getting something a little bit healthier than the M&M's he wanted for breakfast. We served our waffles with sliced bananas and syrup. Enjoy!
Chocolate Waffles
Ingredients:
1 1/2 cups Original Bisquick® mix
1 cup granulated sugar
1/3 cup unsweetened baking cocoa
3/4 cup water
2 tablespoons vegetable oil
2 eggs

Directions:
1. Heat waffle iron. (Waffle irons without a nonstick coating may need to be brushed with vegetable oil or sprayed with cooking spray before batter for each waffle is added.) In medium bowl, stir all waffle ingredients with spoon until blended. Pour batter onto hot waffle iron. (Check manufacturer's directions for recommended amount of batter.) Close lid of waffle iron.
2. Bake each waffle about 5 minutes or until steaming stops. Carefully remove waffle. Serve with toppings of choice. Makes 6 servings.
Click
here
for the link to the recipe. It has a delicious banana topping that I totally didn't have time to put together in the morning rush.