Why hello there Jigglypuff and Pikachu!
Welcome to Collin's party!

I have no idea how Collin came to love Pokemon so much but he does. So I tried to center my goodies for his party around them.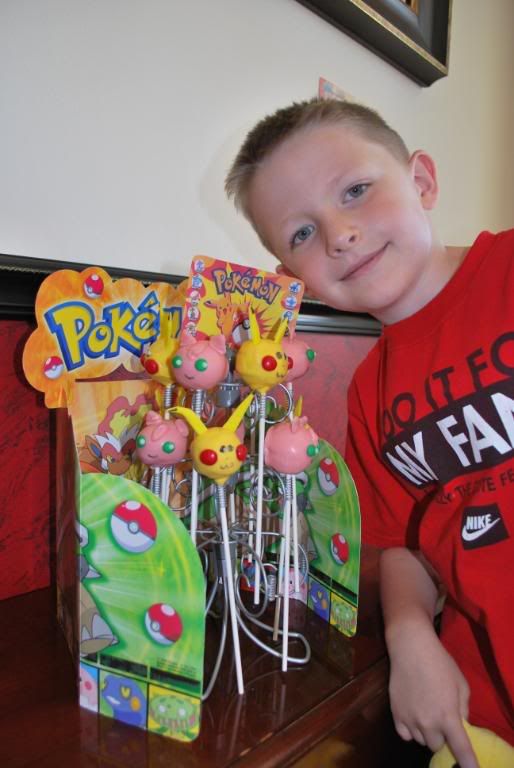 You've probably seen cake lollipops all over the internet. I've made cake balls before but I haven't perfected the whole
cake on a stick
thing. This was my first attempt at making some Pokemon lollipops for my son's party. We made his favorite Pokemon which is Pikachu. We also made some pink Jigglypuff characters for the girls. I was hoping that my little guys would be cuter than this but I just could not get the candy melts to stay
smooth
. Plus my edible decorating pens would NOT write on candy melts. Sigh. Oh well, at least I eventually got them to write enough to sort of make out Pikachu's face. On the plus side though the kids
loved
them! That's all that matters right? Someday I'll get better at this but you've got to start somewhere...
1 box
cake mix
, your choice of flavor! (cook as directed on box for 13 X 9 cake)
1 can
vanilla frosting
(16 oz.)
1/2 - 3/4 package
yellow candy melts
1/2 - 3/4 package
pink candy melts
Edible decorating pens
assorted candy decorations
(For
Pikachu
: I pre-cut yellow fondant into ears and let dry overnight. Use the black pen to decorate tips black. I also used red hots for his cheeks. For
Jigglypuff
I used mini green M&M's for the eyes. I then melted a few pieces of pink candy melts and freehanded ears and let dry on waxed paper. The whites of his eyes are white decorating frosting.)


DIRECTIONS:
1. After cake is cooked and cooled completely, crumble into large bowl.
2. Mix thoroughly with 1 can vanilla frosting. I ended up using only 3/4 of the can of frosting and it was plenty.
3. Roll mixture into quarter size balls and lay on cookie sheet. (Should make 45-50 depending on how big you make the balls.) I used my tablespoon to measure out the dough or use a mini ice-cream scoop.
4. Chill for several hours. You can speed this up by putting in the freezer. (Easy make ahead step-Stick them in the freezer overnight to be ready to dip the next day.)
5. I took the cake balls out one at a time and re-rolled them in my hand to make them smoother and inserted a lollipop stick. Return to freezer.

6. Melt candy melts in microwave per directions on package or on a double broiler. Make sure you have decorations out and ready that you want to attach to the cake ball before it is completely cooled. For Pikachu I used red hots for his cheeks and cut ears out of yellow fondant the night before. The ears need to be prepared far in advance so they are dry and firm enough to handle. For Jigglypuff I used green mini M&M's for his eyes and pink candy melts for his ears.

7. Roll balls in candy melts one at a time (Use a spoon to dip and roll in candy melts and then tap off extra.) If using microwave directions melt a few pieces of candy melts at a time before it starts to cool and thicken. It's easier to work with when it's hot. Add decorations and lay on wax paper until firm.

8. Cake balls are ready for final decorations in only a few short minutes. I drew on their faces with a black decorating pen. I added a tiny dot of white icing on Jigglypuff's green eyes and a little tuft on his head that must be his hair? Not really sure!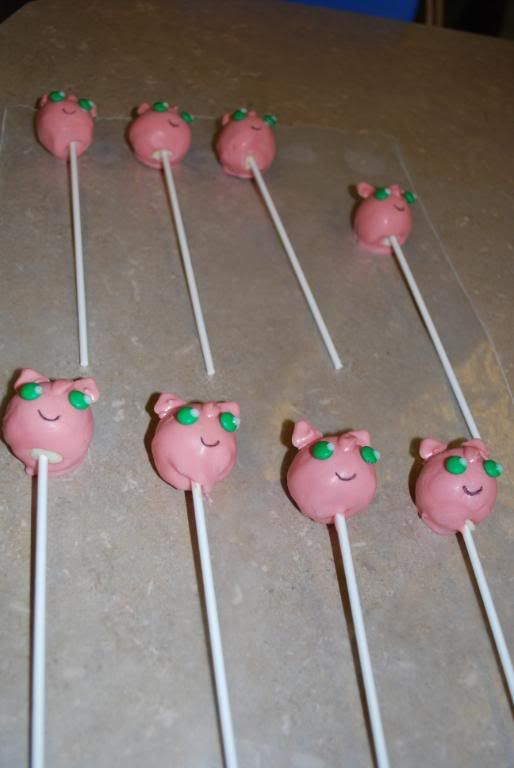 Happy Jiggly's!

Happy Birthday Collin!!